Offices and workspaces are becoming more and more multi-purpose than simply a place of work. It's not unusual to hear of an office that has provides a canteen, gym, relaxation areas etc but studies have shown that one thing that employees ask for in an office environment is around us all the time (less so in Winter, we admit):
Natural Light.
Many offices are based in urban areas or high-rise buildings so the opportunity to escape and get some space and natural light can sometimes be a challenge - if you happen to work in a light and rural area then you are luckier than maybe you realise!
The benefits of Natural Light
The benefits that natural light bring over artificial light are many and varied, as well as covering a whole range of areas, from sustainability through to mental health. If you are in the position of looking to revamp your current workspace or if you are looking to relocate, considering the natural light in the space really needs to be a factor. This great info-graphic gives some more information: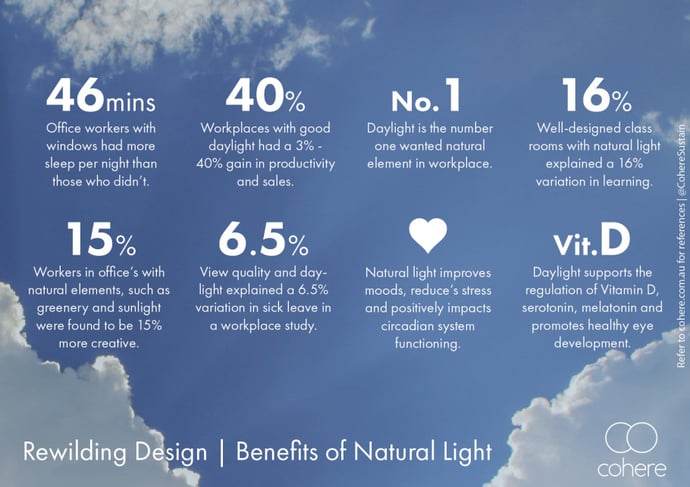 Considering the average office worker will work between 37-38 hours per week, potentially all of that in an office then employees need to be looked after and natural light is an easy win. There's a number of ways to achieve this, for example:
Consider keeping blinds and curtains open: Glare from the light onto the screen can be problematic but anti-glare protectors are available if this does become a real problem
Consider a Sun Tunnel or Sky Ceilings: If your space allows, then a Solar Tube is a great way to introduce natural light into your office, and as a substitute, we think these Sky Ceilings look superb!
Review your Windows: Does your current workspace allow the possibility of full-length windows? These greatly increase the natural light into your workspace.
JPA are committed to helping you achieve your ideal workspace and we would love to hear from you if you have any ideas about the above, or if you would like to talk to us about how we can help you. Call us on 01727 840 800 or send us an email to sales@jpa-workspaces.com and we can discuss your project with you.